Today, with the explosion of the internet and new technologies, companies are facing the challenges of digitalisation. New opportunities are opening up, and innovative means of communication are emerging. For your company, it's not easy to know where to position itself among the digital challenges. Where should you focus your efforts to ensure your growth in the years ahead and stay ahead of your competitors? How can you win over an increasingly connected and demanding public?

Indeed, it can sometimes be complicated to target your digital needs and define the areas you need to work on in order to make a lasting start on digitisation.

Should you automate your processes with management software like Odoo? So that you can devote more time to tasks of real value?

Would you prefer to raise your company's profile by creating a website or e-commerce site? You could sell your services and products online!

Or would you like to help your sales people to prospect, using Facebook Ads and digital marketing?

At first sight, it's hard to give an answer, given that the areas of digital transformation are so broad and involve so many different concepts: ERP, digital marketing, big data, cloud, SaaS, e-commerce, AR/VR, AI and data learning, HRtech/fintech/legaltech, to name but a few.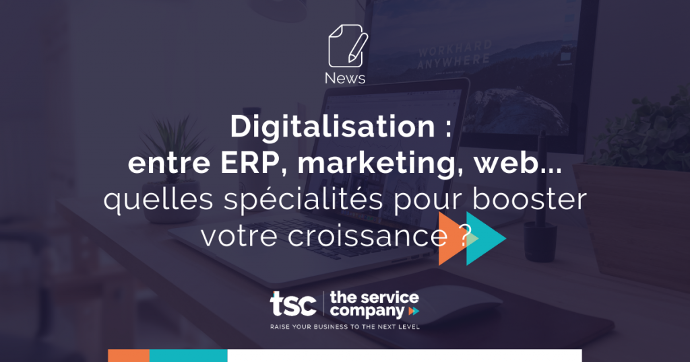 As the world goes digital, what specialities should you develop to help your SME evolve?
At TSC, we have chosen to focus our efforts and our service offering on 3 areas of digital transformation: 
Management software or ERP Odoo: to digitise your processes, free up your staff's time and improve efficiency. ("Odoo" cluster)
Web design and development Your online presence, through a showcase or e-commerce site, to promote your products and services. ("web" section)
Digital marketing to boost your visibility, win new business opportunities and support your growth. (marketing department)
Our experience, gained from working with professionals from a wide range of sectors, has taught us that managers and entrepreneurs wishing to start digitising should start by considering these 3 essential areas.

Why favour these 3 areas for your digital development?
These observations are essentially based on an operational reality observed and experienced in the field. SME managers very rarely have the time or the budget to embark on a project that would combine all the areas of digital transformation... It is therefore essential to make choices. At TSC, we have chosen these 3 areas to support our customers. These specialisms provide the greatest added value for businesses, and your return on investment is quantifiable.

When it comes to digitalising your business, we are convinced that by developing your activity using an ERP-Web-Marketing approach, we are laying the essential foundations for optimum growth of your business.
Management software / ERP: Once seen as the preserve of large companies, the ERP offering for SMEs has developed considerably and become more democratic, with the dazzling success of Odoo, a well-known Belgian company, in recent years and the growing number of users of its management software of the same name. Whether we're talking about software with essential functions, or a complete solution, the objective of an ERP remains the same. It centralises and interconnects your operations in a single place to automate certain tasks. You save time and concentrate your efforts (and those of your staff) on tasks with real added value.
Webmarketing: Internet site, e-commerce, it represents the image of your company in the eyes of everyone. Everyone has the same reflex when they hear about a company they don't know: they start by looking at its website. That's why it's essential that your site is effective, well referenced and clearly reflects your products and services.
Digital marketing:Facebook Ads or Google Ads campaigns, Search Engine Optimisation (SEA), SEO - these are all essential elements for your company's visibility today. Thanks to the power of data, today's new means of communication make it possible to target users in an advanced way, effectively monitor their online behaviour and precisely calculate the return on investment of the actions you undertake. They enable you to offer your customers what they expect: a 100% personalised service tailored to their needs.

Each digital speciality is part of a whole
Of course, your digitalisation does not stop at these 3 areas, since digital technology now affects every department in a company. Making a successful digital transition is an ongoing challenge. The 3 areas selected by TSC are interconnected and communicate with each other. This is crucial to your growth.

Let's illustrate this with a simple example:

A prospect enters a contact request via the form on my site. This request (lead) is sent directly to my ERP CRM and allocated to the right person in the company. If this lead initially arrived on my site via a specific marketing campaign, it will be referenced as a "conversion", if the objective of this campaign was, for example, to generate new contact requests.

This example clearly shows the interaction between these 3 areas and the sometimes very fine line between certain specialities. That's why we believe that the real added value of our approach is to support you across a range of digital areas, so that each recommendation is seen as part of a whole. This global approach overcomes the limitations of a single-pole approach (loss of information, lack of objectivity, lack of cross-functional vision, etc.).

A global approach to boost your digitalisation
Each company has its own digital maturity, objectives, affinity with digital technology, budget and needs, and will therefore have its own specific priorities. Your real needs must be meticulously analysed and phased during a diagnostic session, or even a real digital needs identification mission. And it is even possible that, in certain situations, the conclusion of this diagnosis will define your digital priorities outside the 3 areas presented today.

At TSC, we are convinced that our positioning enables us to provide long-term support for your company's digital transformation. By considering your digital transformation as a whole, you can ensure that your company has solid, complementary and scalable foundations to support your growth.

Do you have any questions about our approach?

Would you like to discuss your challenges with our specialists? Our team would be delighted to talk to you about it!